| | | |
| --- | --- | --- |
| By Corey Roth | Article Rating: | |
| August 3, 2009 09:00 PM EDT | Reads: | 12,757 |
I needed to do a quick proof of concept of displaying search results in Silverlight recently and it actually proved easier than I thought it was going to be. 
I tried this once before in a beta version of Silverlight 2 and it was much more difficult at the time. 
I was able to easily add the reference to the search web service but the proxy was filled with classes that were not supported in the Silverlight .NET Framework.  This time I was relieved to find that it was much simpler.  I've written many applications to query using the web service, so the first thing I thought of was how is this thing going to authenticate to SharePoint.  I started doing tons of unnecessary research when I should have just written some code. 
When you create a reference to the web service, you do not have a credentials property you can set like you could in a regular .NET application.  It turns out that it just works provided you do all of the other necessary things to call a web service first in Silverlight.
For the purpose of today's post, we are going to assume that whatever page is hosting the Silverlight application is running under an account that can access SharePoint (i.e.: Cassini or from SharePoint itself).  I started by creating a reference to the web service at the usual location (/_vti_bin/search.asmx).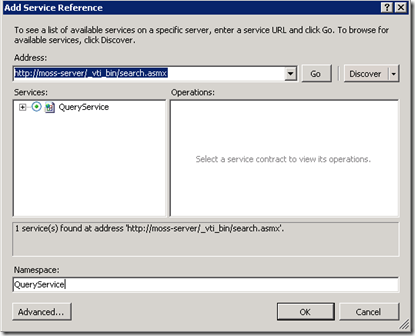 I thought I would need to mess with the security element in the ServiceReferences.ClientConfig file, but in fact you can just leave it alone.  The next thing you have to do is create a cross-domain policy file so that Silverlight knows it has permission to call the web service.  Here is what the file, ClientAccessPolicy.xml, looks like.  You can customize it for your needs of course.
<?xml version="1.0" encoding="utf-8"?>
<access-policy>
  <cross-domain-access>
    <policy>
      <allow-from http-request-headers="*">
        <domain uri="*"/>
      </allow-from>
      <grant-to>
        <resource path="/" include-subpaths="true"/>
      </grant-to>
    </policy>
  </cross-domain-access>
</access-policy>
Creating the file is quite simple, but you need to get the file into SharePoint.  This file has to be located at the root of the web application (not site or site collection).  Of course since it is SharePoint, you can't just go and drop the file into the 80 folder in wwwroot.  So I found, one of the easiest ways to add the file is using SharePoint Designer.  Open it up, connect to your site, and then drag the file onto the root of your site (or create a new one from the menu).  When you are done, it should look something like this.

Read the original blog entry...